Mr Lau - Coffee shop owner
———
As the sole breadwinner of the family, Mr Lau is an coffee shop owner whose income has been dramatically impacted by COVID-19. He wants to refinance his mortgaged property valued at HK$7.2 million through the bank; however, his application is immediately declined due to reduce of salary & insufficient income proof.
With competitive interest rates and longer repayment periods comparing to a personal loan, Mr Lau's friend recommended Sun Hung Kai Credit. After completing the simple application process, Mr Lau is approved for a loan of HK$300,000 within three days with no penalty for early settlement and no handling charge or legal fees, immediately relieving his financial stress.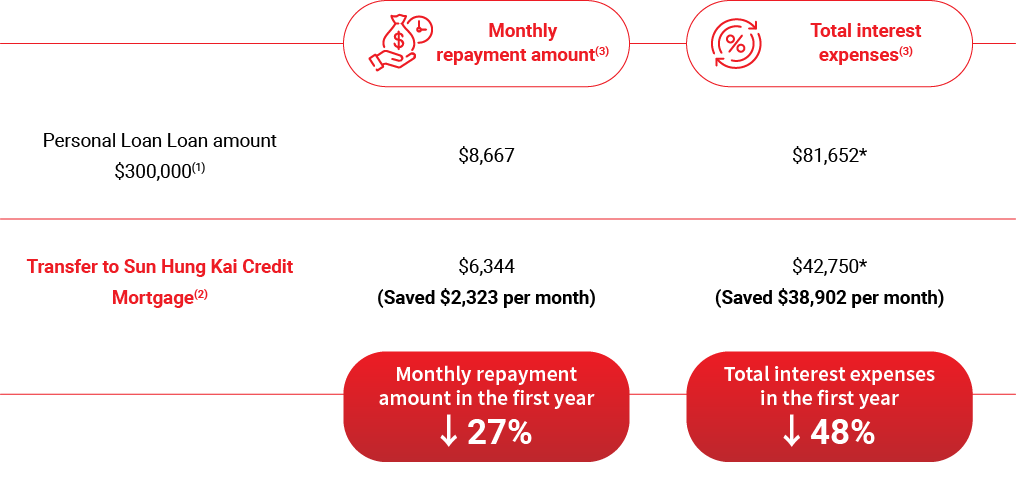 Calculated based on the first 12 months
(1) Assuming that the monthly flat rate of personal loans is 1.5%, and the actual annual interest rate is 32.06%;
(2) Assuming that the actual annual interest rate of the mortgage loan is 15%
(3) Assuming that the repayment amount and interest expenses are calculated in 72 instalments